The IX series, Aiphone's audio-video IP (internet protocol) intercom system, integrates the audio intercom system with an IP-based security system to facilitate seamless customer operations at unmanned monorail stations along the Shonan Monorail.
The Challenge
Provide and establish a reliable intercom system along the Shonan Monorail Line that aims to accomplish two key goals: (1) allow monorail attendants to have a remote visual understanding of passengers' environment while speaking to and assisting them at unmanned stations (e.g. the face of passengers who are operating ticket machines, bird's eye view of the passenger at the operating machine), and (2) provide an effective channel of communication between employees located at the Shonan Enoshima and Ofuna stations.
The Solution
Install an IP (internet protocol) intercom system that utilizes the advanced IX Series technology, which effectively integrates station-to-station communication among employees, communication between attendants and passengers seeking assistance at unmanned stations, and a third-party IP camera system.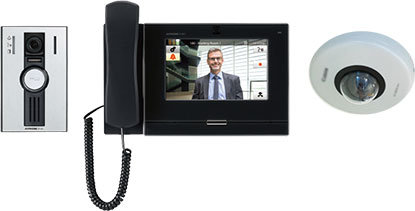 Understanding Operations at the Shonan Monorail
The Shonan Monorail Line in Japan, located in Kanagawa Prefecture, caters to 10 million passengers annually. It not only helps connect commuters working in the Tokyo and Yokohama areas, but also serves as a critical pillar of Kanagawa tourism, helping usher in visitors to the shrines and other tourist spots of Enoshima. 
The monorail connects the Shonan Enoshima Station in Fujisawa to the Ofuna Station in Kamakura with an average travel time of 14 minutes, passing through eight stops: the two staffed stations of Shonan Enoshima and Ofuna, and six without station attendants in between these two stops.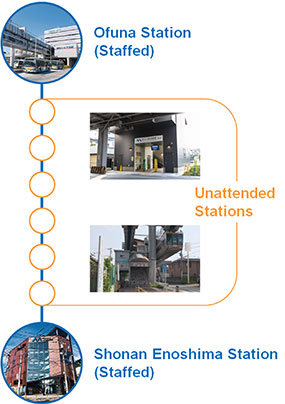 What Challenges Arose for the Shonan Monorail?
The lack of adequate intercom systems at the Shonan Monorail caused operational difficulties on two levels. 
Previously, passenger assistance requests were limited at the Shonan Monorail's six unattended stations due to an audio-only intercom system. Station staff had difficulty responding to passengers' requests from unmanned stations as they had to check both the intercom system and the surveillance camera, which was a short distance from their booths. It was inconvenient for the station staff at the manned stations to remotely assist domestic and foreign tourists (unmanned station users) who were unfamiliar with the local monorail system.
Meanwhile, communication between employees at the Shonan Enoshima Station and the ticket operators at Ofuna Station also needed improvement. With the latter only having access to telephones at the control center, attendants had to physically leave the ticket booth to communicate with fellow employees properly. 
The client highlighted the difficulty such a system presents in day-to-day operations, saying, "The ticket booth at the Ofuna Station (the first station on the Shonan Monorail) is always busy, as one attendant handles it. In addition, inquiries from the six unattended stations need to be handled too. Customers frequently call in from unattended stations, and their requests vary. They range from emergency reports to transportation cards not working properly, making a remote operating system a convenient necessity for station employees."
These combined difficulties indicated that (1) the existing intercom system, in which the calling device and video device are separate, makes the station staff's work of assisting passengers at unmanned stations complicated, and (2) the ineffective communication lines between employees hindered ticketing operations.
Providing Solutions with Aiphone
To address such concerns, the Shonan Monorail utilized intercom system solutions from the IX Series. In total, the Shonan Monorail installed three IX-MV7-HB video master stations, eleven (11) IX-EA video door stations, and eleven (11) third-party network cameras across several of its stops.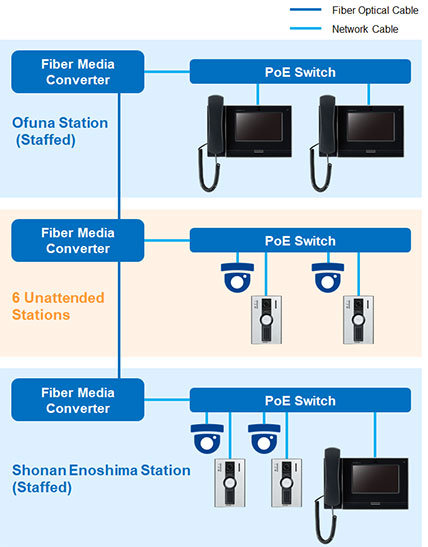 The Shonan Monorail equipped unattended stops with video door stations with accompanying cameras. Once activated, these video door stations would connect users to attendants at Ofuna Station who can access a live feed, allowing them to assess passengers' current situation and contextualize incoming inquiries properly. They could now observe commuters through the front view of video door stations or utilize third-party network cameras mounted on the ceiling for surveillance purposes. Additionally, with the IX Series' call transfer feature, incoming video door connections which cannot be entertained would be immediately transferred to an available operator.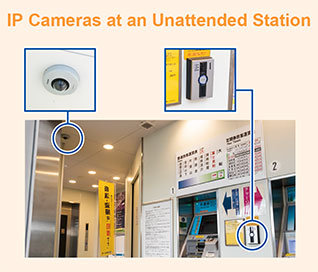 Further, the Shonan Monorail also utilized the IX Series' video master stations to help prevent ceasing ticket booth operations, as attendants at Ofuna Station could now coordinate with fellow employees at Shonan Enoshima Station without leaving their booths.
Since the Shonan Monorail had already previously shifted to using IP intercoms, the station integrated the IX Series solutions with minimal difficulty. The overall installation cost was reduced by utilizing existing equipment, such as fiber optical cables and PoE (Power over Ethernet) switches.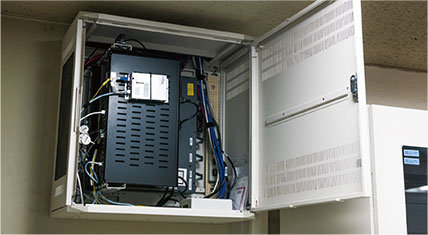 The Impact of the IX Series Intercom System
By introducing video intercoms, customer support at Shonan Monorail stations drastically improved through a wider range of capabilities. As an intercom system, the IX Series and its integration with other IP-based security systems enabled simultaneous monitoring and operation by attendants with a single touch through a master station. The combination of the IX series and network cameras has simplified various passenger requests, making it easier for passengers to complete their end-to-end journey. For example, the door station camera has made it easier for station staff to verify commuter passes, while the ability to monitor via surveillance cameras has bolstered ticket machine operation.
The Shonan Monorail's efficiency also significantly improved through the IX Series' technology. By improving correspondence between stations, ticket office operations were streamlined as lines of communication became readily available within the booth. Additional features, like the call transfer function, ensured immediate assistance and generated further confidence among passengers.
Sharing insight on their selection process for an effective intercoms solutions provider, the client shared, "We recognized there was a need to upgrade to a system that had audio and video capabilities. Regarding the selection of Aiphone's IX Series, there were installation records from other railways that had unattended stations, and we felt confident that the product would solve this challenge."
The application of the IX Series along the Shonan Monorail Line reflects the immense potential and benefits that can be harnessed through technological solutions like an intercom system.
This is important in today's current business climate, especially when considering that infrastructure construction relevant to transportation (such as railways) will continue to scale in markets like India, Indonesia, Malaysia, South America, and Africa. Similarly, railway usage is expected to further increase in countries where railway transportation is firmly established, such as Europe, Australia, the United States, and Canada. Technological advancement will also lead to the implementation of unmanned operations in places like gas stations, parking gates, security gates, and toll booths on expressways. Given its benefit in the context rapid transit, widespread adoption of unstaffed operations is likely - be it in regard to railroads, train, or subways.
Aiphone's IP intercoms will play a crucial role in supporting unmanned operations at stations, commercial facilities, and service counters, while maintaining convenience for users. Such technology and similar offerings will be essential to increasing efficiency, acquiring maximum value, and enabling businesses to better serve their stakeholders.
Founded in 1948, Aiphone is an industry pioneer providing communication systems solutions to clients across the globe. With a strong presence in Asia (including Hong Kong, Indonesia), Australia, North America, and Europe (including the United Kingdom), Aiphone serves businesses across several sectors. Such experience has manifested in the versatile range of intercom solutions that can seamlessly integrate into various settings, such as apartment complexes, detached housing, and office buildings. Possessing over 70 years of industry expertise and over 30 standard communication system offerings, Aiphone services guarantee its customers' safety, security, and comfort.
Click here to learn more about the IX Series and its wide range of business applications. For inquiries, please contact our inquiry desk, which you can access here.