The IX Series, Aiphone's audio-video IP (internet protocol) intercom system, integrates a call function and IP-based video cameras at remote locations to provide a reliable communication channel for quarry sites where landline telephones were previously used.
The Challenge
Provide an intuitive, easy-to-use intercom system for truck drivers and dispatchers at rock and asphalt quarries, where two main issues were prevalent: (1) limited one-to-one calls on landline telephones, which entailed fixed answering staff and presented challenges to the efficiency of answering incoming calls, and (2) the harsh conditions of a quarry that can affect the quality of communication that an industrial intercom system could provide.
The Solution
Install the IX Series intercom system using IP (internet protocol) technology, which increases flexibility as such a system enables easy connection between dispatchers located far away from each other. 
(1) By connecting dispatchers at quarries and remote locations under a single communication network system, calls from truck drivers can be automatically transferred to available dispatchers and other call transfers can be performed, further improving operational efficiency. 
(2) The IX Series will also prevent potential communication breakdowns by utilizing hardware that provides clear, robust audio even under extreme conditions.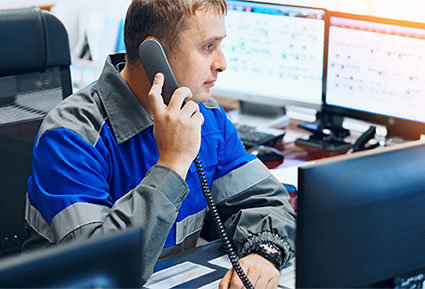 Analyzing Communication Difficulties at Quarries
For businesses in quarrying, it can be uniquely challenging to establish a reliable communication system in an industrial site due to several factors. These factors include extensive coverage areas, faraway dispatchers who need to coordinate remotely with truck drivers, and check-in processes (operation) that are difficult to understand, especially for inexperienced drivers. A quarry's environment also presents additional complications, as noise, dust, and severe temperature changes (due to the outdoors) can affect the performance of the industrial intercom system installed.
Such difficulties were evident for a client based in the Southeast area of the United States (US), a region known for its rich geological makeup of rocks like limestone, sandstone, and granite. 
The client had 10 locations comprising rock and asphalt quarries. After being loaded, drivers are required to stop at scales, weigh their loads, and check in with quarry dispatchers. While some quarries had dispatchers on-site, it was not uncommon for them to monitor remotely from more than 100 miles away. The company utilized IP-based video cameras and landline telephones as the primary communication means.  The video cameras recorded license plates and related truck details, while landline telephones allowed dispatchers to communicate with the drivers.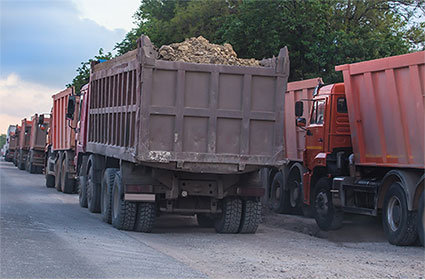 This system presented significant operational difficulties. New drivers unfamiliar with the check-in process would not see the telephone and instead sit and wait for dispatchers to accommodate them in their trucks, resulting in long queues to use the scale. The frequent arrival of trucks at various facilities also left dispatchers unable to step away from their desks, even for a brief moment. Additionally, clear communication became challenging due to the noisy environment created by surrounding quarry operations and the trucks' diesel engines.
The current dynamic indicated that the communication process needed revamping as the system was inefficient in several regards. The new industrial intercom system needed to: 
• Be intuitive and straightforward so that all truck drivers (including first-time visitors) can easily use it
• Make the connection between truck drivers and dispatchers flexible, allowing either party to connect with each other easily and avoiding potential delays 
• Perform appropriately in consideration of a quarry's noisy and harsh environment
Tailoring the IX Series for Industrial Intercom Systems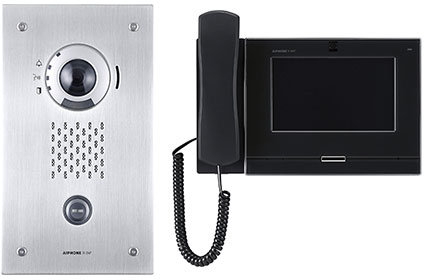 To address the current concerns, the client installed the IX Series intercom hardware and integrated it with IP-based video cameras already being utilized. Specifically, desk stations with monitors and outdoor stations with cameras were installed at several locations. The quarries' systems integrator also installed amplifiers and horn speakers, but the IX Series had sufficient volume, so the additions were unnecessary.
Since its implementation as an industrial intercom system, the IX Series has promptly addressed numerous communication issues that previously hindered daily operations, resulting in several immediate benefits like the following:
• Seamless Dispatch Assistance: The IX Series made it easier for truck drivers, even those who are new, to communicate effectively with dispatchers. Truck drivers who are unfamiliar with the process could now be directly assisted.
• Integrated Audio-Video Capabilities: The integrated system allowed dispatchers to simultaneously access video information while initiating or answering calls to assist drivers during the weigh-in process. More information became available to dispatchers, helping them better accomplish their duties.
• Call Transfer Features: The IX Series' call transfer was especially beneficial as it helped ensure incoming calls could be redirected to available dispatchers, preventing potential processing delays. The dispatchers can choose from a range of call transfer features, such as manual transfer (calls placed on hold), delay transfer (no response within a set interval triggers automatic transfer), schedule transfer (calls are automatically transferred at scheduled periods), etc.
These features significantly improved the communication between dispatchers and truck drivers, optimizing the company's operations and workflow. The IX Series was also able to withstand the harsh environment of quarry sites and provided the following additional benefits:

(1) Impact resistance: The IK rating (impact protection rating) is the international standard that measures how resistant a product is to impact and scores effectivity from 00 to 10. The IX Series includes outdoor items that meet the IK08 standard, indicating sufficient protection against vandalism.

(2) Water resistance: On the Ingress Protection (IP) scale, which grades the resistance of enclosures against dust and liquids, the IX Series rates highly with a range of IP54 to IP65, depending on the device used.

(3) High-temperature durability: The IX Series is also temperature resistant, operating in temperatures as low as negative 40 up to 60 degrees Celsius (negative 40 up to 140 degrees Fahrenheit).
Other supplementary advantages that materialized include reduced costs as landline telephones were no longer needed and ease of installation at future quarry locations due to the IX Series flexible implementation. Moreover, unlike landline telephones, industrial intercom systems like the IX series (which utilizes local area networks and virtual private networks) are no longer limited by wiring distances.
Attesting to the overall benefit and value-add that the IX Series can provide as an industrial intercom, the client's systems integrator shared, "From my standpoint, there is nothing more pleasing than working with a company that supports you. The fact [that] I can pick up the phone and talk to somebody that knows what I do is great. If it's an intercom, it's Aiphone, period."
How the IX Series Can Benefit the Industrial Sector
Applying the IX Series at quarries is a testament to the transformative change intercom systems and reliable communications solutions can have on a business, especially in the industrial sector. 
The industrial sector plays a crucial role in global economies, firmly establishing its significance in business. Concepts like operational efficiency and robotization are of the utmost importance, especially in several industrial sub-sectors, such as manufacturing, mining, and construction, to name a few. Businesses need to recognize the value of industrial intercom systems in achieving these goals.
The role of reliable industrial intercom systems, like the IX Series, will be vital in the coming years as the industrial sector and its many sub-sectors will continue to scale worldwide. 
In South America (Chile, Peru), Africa (South Africa) and Oceania (Australia), where the mining industry and ore exportation are prevalent, the IX Series could be utilized. The IX Series would be a valuable solution given that mining sites, underground excavation, mining construction, and tunnel construction also produce noise and high temperatures that can affect communication. The Middle East (Saudi Arabia) also stands to benefit, as the region is home to the top oil-producing countries where noisy factories and drilling sites are common. Regardless of industry or region, any company still relying on landline telephones and dated communication channels should consider updating their industrial intercom systems. 
Founded in 1948, Aiphone is an industry pioneer providing communication systems solutions to clients across the globe. With a strong presence in Asia (including Hong Kong, Indonesia), Australia, North America, and Europe (including the United Kingdom), Aiphone serves businesses across several sectors. Such experience has manifested in the versatile range of intercom solutions that can seamlessly integrate into various settings, such as apartment complexes, detached housing, and office buildings. Possessing over 70 years of industry expertise and over 30 standard communication system offerings, Aiphone services guarantee its customers' safety, security, and comfort.
Click here to learn more about the IX Series and its wide range of business applications. For inquiries, please contact our inquiry desk, which you can access here.