New level of integration flexibility
Enhanced security through integration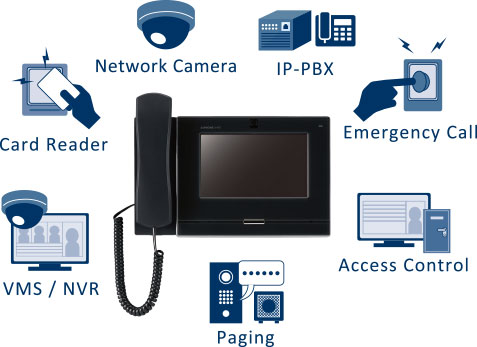 Compatible with third-party systems
The IX System is compatible with the ONVIF*2 Profile S interface specifications for network camera equipment. This allows the intercom to be used with third-party systems, enabling interoperability of integrated IP systems. The open API allows for configuring IP systems with greater flexibility.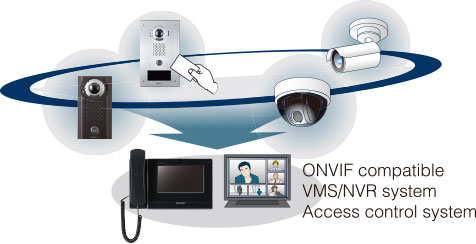 *2 ONVIF (Open Network Video Interface Forum) : The interface specifications established by ONVIF provide standards that enable exchange of live video and audio as well as control information by surveillance cameras and other network video devices, even among products from different manufacturers.
Examples of Integration
Use with a Video Management System and Access Control
Interconnection with an ONVIF Profile S-compatible network camera system lets you transform door stations into surveillance cameras for enhanced security and facial identification of visitors. Integrate with video management systems for 24/7 recording. Integration with third-party access control is also possible.

Clearly identify visitors with both the intercom and network camera.
Linking IP cameras with the IX System allows the user to view 2 video feeds simultaneously*3 from the master station. Increase security and situational awareness.
*3 only for IX-MV7-HB, IX-MV7-HW, IX-MV7-B and IX-MV7-W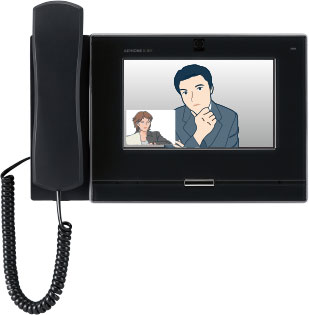 IP-PBX lntegration
IP-PBX integration enables the IX System to be used as a part of your internal telephone network. Make receive and transfer calls, answer visitors and release doors.
* Integration available for CISCO system (CUCM), Avaya system (Office, Aura), Digium system (Switchvox), Alcatel-Lucent system (OXO, OXE) and Genetec system (Sipelia). For further details, please contact your dealer.
* There are regulations in each country for connecting to a PBX system.